Posted by Sarah Ray for Equus Emporium on 20th Oct 2015
It's that crazy time of the season, where a lot of riders are preparing for either the CCI (Three Day Event) at Goulburn, Adelaide or Lakes and Craters. Having ridden at each of these events over the years, the main difference that you have to allow for in your preparation is the heat. Even in October, NSW can be hot! Adding in travel time and stabling, this can cause some extra stress for horses, riders and their support team.
Having not had the opportunity to compete/jump/gallop/have any fun in the first half of this year (thanks broken ankle) I approached my fitness work with my two Two Star horses, Irish Mist and King Vassie, cautiously. Having had two horses who were super fit for Adelaide last year, but felt "weak" in the showjumping on the final day, I wanted to change my routine. This season I've focussed more on having my horses stronger, more flexible, and more ridable through working harder on our dressage (thanks for putting up with us Charlotte!) and gymnastic exercises over poles and fences. We still do hill work, however have limited "galloping" to once a month. So far so good, with both horses having heart rates of 80-85 directly after Xc, and are feeling fantastic jumping around the show jumps.
However, every horse is different! To ride a three day well, you need to know your horse inside out. I take temperature and resting heart rate before our fitness work, and before travelling interstate. This helps me know what "normal" is for each horse, which means at the end of XC when the vet is telling you what the vital signs are, you have a better knowledge of how to best get the horse back to a safe heart rate and temperature. No one needs to be stressed in the cool down after XC, that half an hour should be reserved to relive the amazing round our horse has just given us (positive thinking before Goulburn, be on your best behaviour Quinn). That time in the cool down box is also the busiest time your team will have, whether it's just you and one other (usually a horse terrified boyfriend or mum roped in) or a team of helpers, aggressive cooling is a fine art that requires practise and team work.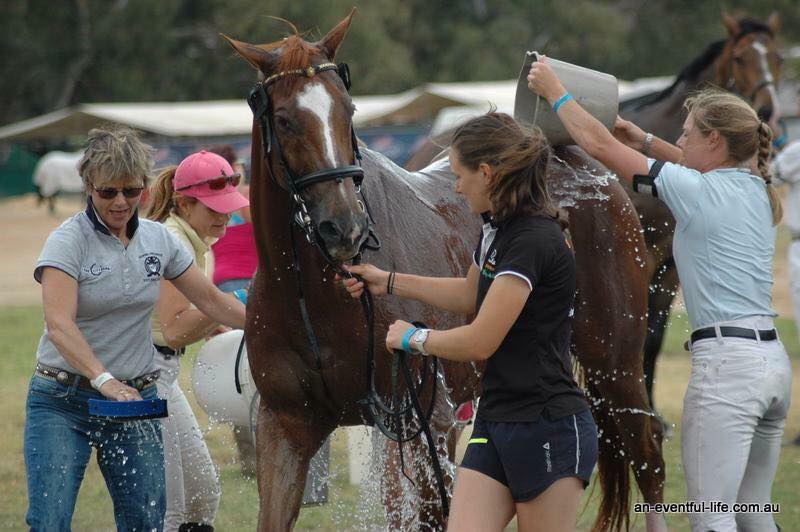 In dealing with the heat, and travel in general, I use the KER "Restore" pastes on arrival at an event, after XC, and if we have a big trip home I'll give the horses another one before heading home. They are full of electrolyte goodness which mimic the composition of horses sweat, important in the prevention of sore muscles, tying up, dehydration and overheating. Quinn especially needs help in this area, as a cross breed (ISH) he doesn't recover as quickly as Vas (TB), and his temperature can take some time to come down. While his temperature is up high, it means that his metabolic system is working over time, extruding lots of waste by products (lactic acid) which causes sore, heavy and tired muscles. Every Three Day event his recovery is improving, which means that we are on the right track. We are so lucky within Victoria that we have a huge number of riders with an enormous wealth of knowledge in preparing many different types of horses for a CCI, and all of whom are very approachable and enjoy sharing their knowledge! It's great to have a "team like" environment in what can be a very individual sport.
Each Three Day Event requires a team of people to make it work, coaches, farriers, vets, family, friends, and of course our horses! However at the end of the day, whether riding is our hobby or our job, riders need to be relaxed and focused. Same for our horses. Having a big, regimented less up to a CCI is necessary, but can lead to tired, grumpy horses and riders. Mix it up! Go for a run, have a day off, or go for a hack out. Especially in the weeks leading up to the event, if you haven't nailed a particular movement in the dressage, it's probably not going to come together on the day. Instead of becoming obsessed with making sure "everything" is perfect, focus on what you do do well, hone that, finish rides early and make sure the horses finish on a good note. They get "over it", same as us (some are more vocal about it than others) and to get the best score possible we have to have happy, settled ponies and riders!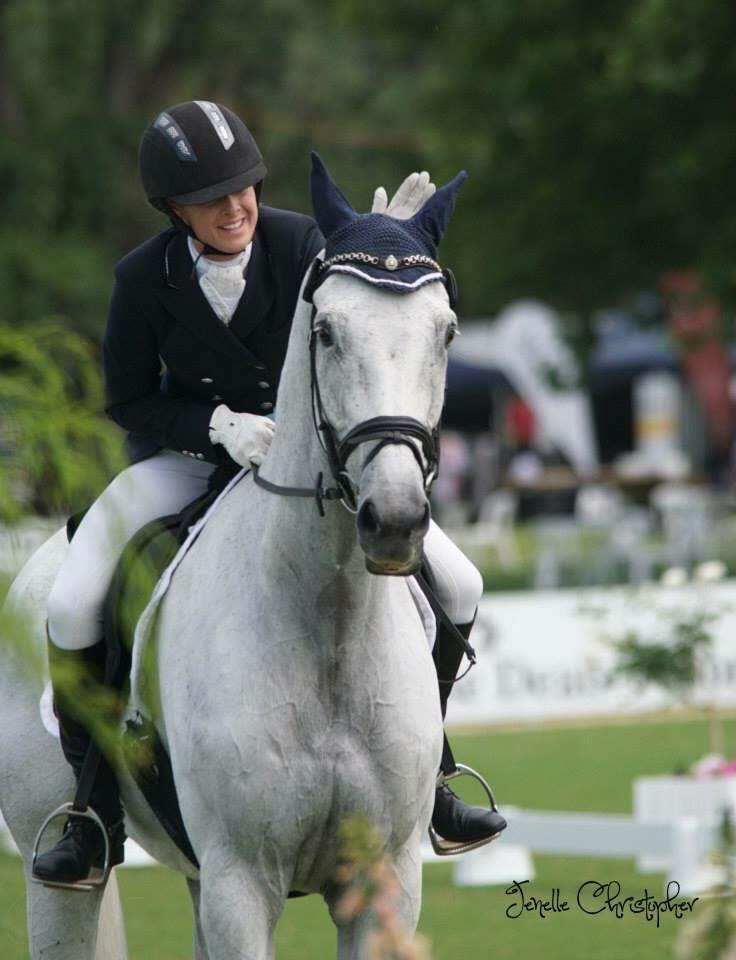 Starting my trip to Lynton Horse Trials by running over my wallet and leaving it on the side of the road an hour into our 9.5hour trip, was not a great omen! However, apparently this year that the was my only blonde moment as the rest of the weekend went fantastically.
Quin put together a good test, ate up the huge XC course with just a little bit of time, and finished off the weekend by show jumping clear on Sunday in the CCI 2* to finish 5th ❤ I could not be more proud of my naughty grey pony for our first CCI of the year and smashing our MER, which now puts him on the National Squad with Vas.
Huge thanks to Colleen Ray for supporting us, feeding us, and being a star driving home after a very long weekend. To my awesome sponsors ‪Equus Emporium, who made the long trip up the Hume to support our team, help with cool down and take these amazing photos- you guys are the best! My new Pikeur jacket looked amazing and is definitely now my lucky jacket after jumping my first clear showjumping round in a CCI event!